Dnepr launches KompSat-3A
The 22nd mission of the Dnepr rocket in March 2015 delivered the South-Korean imaging satellite KompSat-3A.
Above: KompSat-3A spacecraft.
From the publisher: Pace of our development depends primarily on the level of support from our readers!
Launch profile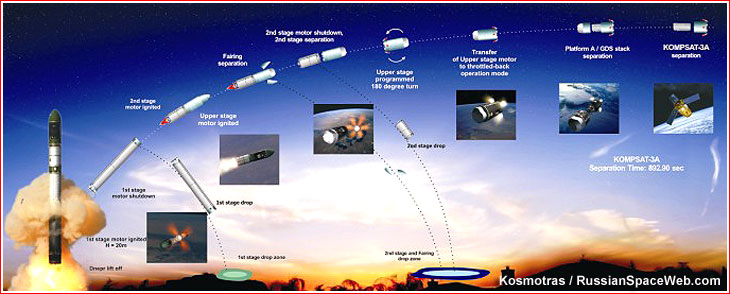 The launch of a Dnepr booster converted from the R-36M UTTKh (RS-20B) ICBM took place as scheduled on March 26, 2015, at 01:08:46 Moscow Time (6:08 p.m. EDT; 22:08 UTC on March 25) from Site 370/13 at Dombarovsky (Yasny) ICBM deployment area.
The rocket delivered South Korea's one-ton KompSat-3A satellite into a 528-kilometer Sun-synchronous orbit following an ascent in southern direction. The orbital insertion lasted slightly less than 15 minutes. Some 32 minutes after the liftoff, the satellite was expected to establish contact with a Norwegian TrollSat station in Antarctica. A Korean ground station was expected to hear from the satellite at 13:04 local time or five hours 56 minutes after the liftoff.
KompSat-3 project
The development of Korea's third multi-purpose satellite or KompSat-3 (a.k.a. Arirang-3A) officially started in 2004 at the Korean Aerospace Research Institute, KARI. The project aimed to build a follow-on spacecraft to Kompsat-1 launched by a American Taurus rocket in 1999 and to Kompsat-2 launched on the Russian Rockot booster in 2006. As its predecessors, Kompsat-3 was designed for remote-sensing observations of the Earth's surface, first of all the Korean Peninsula. The project aimed to give Korean engineers the experience in development of a basic satellite structure, while the imaging system for the spacecraft was outsourced to a European consortium EADS Astrium, later renamed Airbus Defense and Space. EADS' involvement in the KompSat-3 project probably determined the architecture of the KompSat series, which closely resembles Pleiades satellites also developed at EADS.
KompSat-3A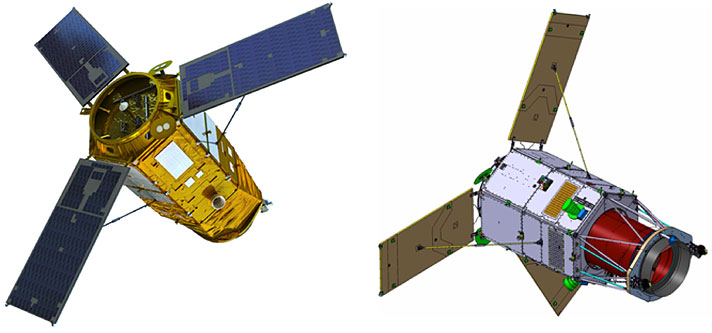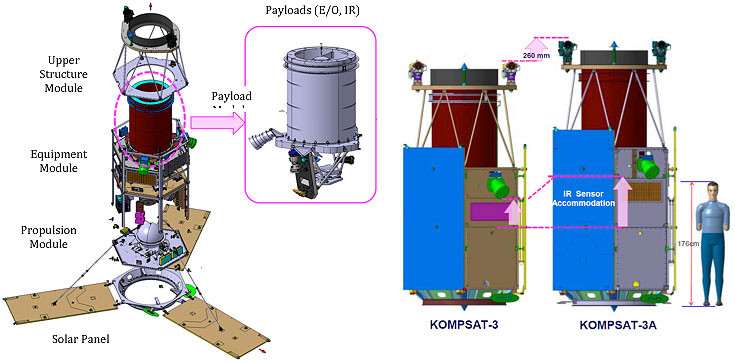 Above: Design of the KompSat-3A satellite and its comparison to a preceeding KompSat-3. Credit: KARI
In December 2006, the work started on a second satellite in a series -- KompSat-3A -- featuring multi-spectral and infrared cameras for an official goal of monitoring forest fires and volcanic activity. Broader tasks of observation, cartography and disaster monitoring could also be fulfilled with the new spacecraft. The original goal was to provide 0.7-meter resolution for panchromatic imaging and seven-meter resolution for infrared imagery. However both of these capabilities were later improved to 0.55 and 5.5 meters respectively. The main imaging payload onboard the KompSat-3A satellite was designated the Advanced Electronic Image Scanning System, AEISS-A.
According to KARI, the KompSat-3A satellites capable of producing images with a resolution below one meter would be used for environmental, agricultural and oceanographic applications.
Images produced by the satellite would be distributed commercially by KAI Image Inc. inside South Korea, while the international marketing of the satellite's data was delegated to Europe's SpotImage.
Known specifications of the Kompsat-3A satellite:
| | |
| --- | --- |
| Liftoff mass | 1,100 kilograms |
| Onboard propellant mass | 73 kilograms |
| Spacecraft size | 2.04 meters by 3.78 meters by 6.48 meters |
| Power supply | 1.4 kilowatts |
| Operational life span | 4 years |
| Orbital altitude | 528 kilometers |
| Orbital inclination | 97.51 degrees |
| Orbital period | 98.5 minutes |
| Local time at ascending node of the Sun-synchronous orbit | 13:30 |
| Imaging area revisit cycle | 28 days |
| Pan-chromatic resolution | 0.55 meters |
| Multi-spectral resolution | 2.2 meters |
| Infrared resolution | 5.5 meters |
Known KompSat-3A project developers:
| | |
| --- | --- |
| Korean Aerospace Research Institute, KARI | Prime developer |
| Airbus Defense and Space (formerly EADS Astrium) | Payload system |
| AP Aerospace | Satellite bus |
| DLR Institute of Optical Sensor Systems | Focal plane array |
| AIM | Sensors |
Mission history
According to KARI documents, the launch of KompSat-3A was originally expected in 2012 or 2013 into a 528-kilometer Sun-synchronous orbit.
Apparently, at one point there were some hopes that one or both Kompsat-3 siblings could ride into orbit on Korea's KSLV-1 launch vehicle, which was based on Russia's URM-1 booster from the Angara family of rockets. However as the development of the KSLV rocket fell behind schedule, and KompSat-3 was switched to the Japanese H2A rocket, while a Russian-Ukrainian Dnepr was ordered for the KompSat-3A mission.
In March 2010, the Korean Aerospace Research Institute, KARI, chose AP Aerospace to be a prime developer of a satellite bus for the KompSat-3A project. At the time, the launch of the satellite was expected at the end of 2013. The mission was then delayed to 2014 and 2015.
During 2014, the launch of KompSat-3A was scheduled for January 22. At the end of January 2015, the South Korean TV channel YTN reported that the satellite had been delivered to Russia and the launch was expected on March 12. The TV footage showed the departure ceremony for KompSat-3A at KARI on Nov. 25, 2014.
Despite KompSat's arrival to Russia, on February 2, the official RIA Novosti news agency reported that all Dnepr missions would be suspended altogether, as the Russian-Ukrainian conflict was escalating. Around 24 hours later, the same news agency quoted Aleksandr Serkin, the Director General of Kosmotras, which operates Dneprs, as saying that the company would fulfill all its international contracts, including the launch of Kompsat-3A in March and two more missions in 2015, therefore international clients "had nothing to worry about." Just four days later, the Russian government issued a Directive No. 176-r, giving a green light to the cooperative mission. On March 13, Kosmotras confirmed the launch date on March 25.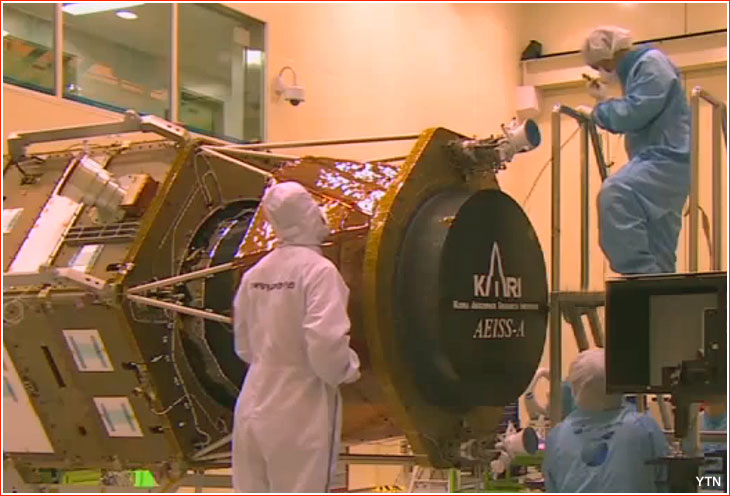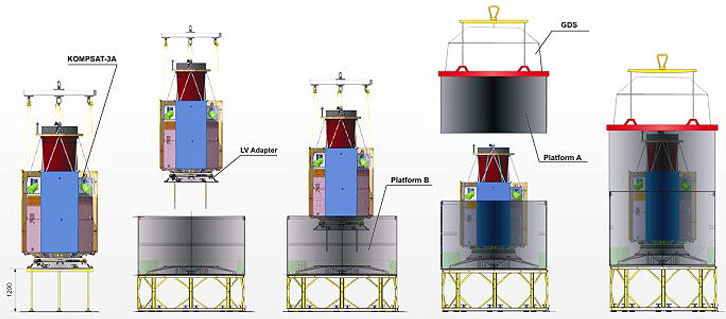 Above: Pre-launch processing of KompSat-3A satellite in Korea (top) and in Dombarovsky (bottom).
Read much more about the history of the Russian space program in a richly illustrated, large-format glossy edition: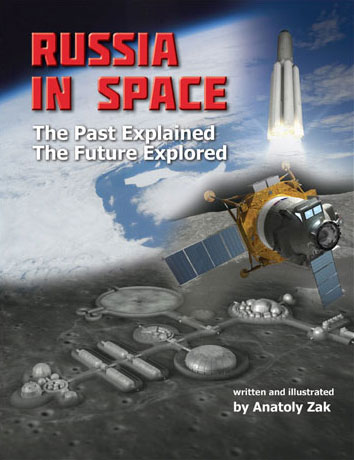 ---