Mission of Cygnus OA-5 cargo ship
The OA-5 mission was launched on Oct. 17, 2016, becoming the sixth flight undertaken by Orbital ATK to deliver crew supplies, spare equipment and scientific experiments to the International Space station under NASA's Cargo Resupply Service-1 (CRS-1) contract. Counting two test and demonstration launches, it was the eight mission in the Cygnus program.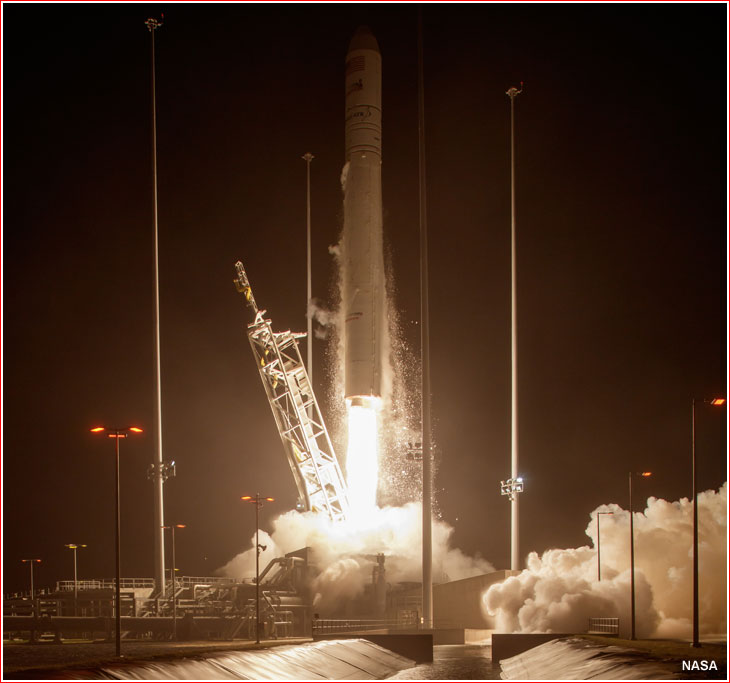 An Antares-203 rocket lifts off with the Cygnus spacecraft on the OA-5 mission on Oct. 17, 2016.
Cygnus OA-5 mission at a glance:
| | |
| --- | --- |
| Launch date and time | 2016 Oct. 17, 7:45 p.m. EDT |
| Launch vehicle | |
| Launch site | Wallops Island, VA, MARS Pad 0A |
| ISS capture date and time | 2016 Oct. 23, 6:28 a.m. Houston time |
| ISS docking location | Node-1 Unity, Nadir Common Docking Mechanism |
| ISS departure date | 2016 Nov. 21 (actual); 2016 Nov. 18 (planned) |
| Ascent payload mass | 2,425 kilograms |
| Descent payload mass | 1,687 kilograms |
| Flight duration | Up to 90 days |
From the publisher: Pace of our development depends primarily on the level of support from our readers!
Cygnus AO-5 arrives at ISS
Following its liftoff on the Antares rocket on Oct. 17, 2016, the OA-5 mission was scheduled to approach the ISS after the arrival of the Soyuz MS-02 spacecrafton on October 20, whose launch was postponed from September.
After several orbit corrections on the morning of Oct. 22, 2016, the spacecraft ended up 550 kilometers behind the ISS and around four kilometers below the station's orbital altitude.

The Cygnus OA-5 reached the vicinity of the station in the early hours of Oct. 23, 2016. Initially, the ship maintained a station-keeping position 250 meters from the station. Around 6:30 a.m. Houston Time, the spacecraft resumed its approach to a distance of 30 meters, and few minutes later, it crossed the outpost's 200-meter "keep-out sphere."
Astronauts Takuya Onishi and Kate Rubins were on hand at the multi-window Cupola of the ISS to control the station's Canadarm-2 robotic arm for a scheduled capture of the spacecraft around 6:05 a.m. Houston Time However, the rendezvous process fell around 20 minutes behind schedule, apparently due to difficult lighting conditions during the approach.
The capture was then re-scheduled for 6:25 a.m. Houston Time or eight minutes before the end of the available time window. The spacecraft reached a 30-meter distance from the ISS around 5:50 a.m. Houston Time. To meet the schedule, the spacecraft had to depart the 30-meter mark no later than 6:20 a.m. Houston Time.
According to NASA, the Canadarm-2 robotic arm captured the grapple fixture on the Cygnus OA-5 at 6:28 a.m. Houston Time on Oct. 23, 2016, just five minutes before the end of the time window, as the outpost was flying over Kyrgyzstan. The crew then maneuvered the arm to attach Cygnus to the nadir (Earth-facing) port of the Node-1 Unity module. During the sensitive operation of closing four gangs of 16 latches of the docking port, one of the four failed to show readiness to close. Mission control requested all six crew members to abstain from using exercise equipment, which could cause vibrations onboard the station. Only by 9:45 a.m. Houston Time, the crew finally confirmed that all four groups of latches were ready to close. The first stage capturing process was underway at 9:48 a.m. Houston Time. The second stage was initiated at 9:51 a.m. Houston Time and the successful berthing was finally confirmed as completed at 9:53 a.m. Houston Time.
The crew was originally scheduled to enter the cargo ship on Oct. 27, 2016, however, according to NASA, mission control discussed an earlier opportunity to open hatches in communications with the crew.
Flight program
According to NASA, the cargo aboard the Cygnus OA-5 mission supported dozens of new and existing investigations as the space station crews of Expeditions 49 and 50 contribute to about 250 science and research studies. The new experiments include studies on fire in space, the effect of lighting on sleep and daily rhythms, collection of health-related data, and a new way to measure neutrons.
The Saffire II payload was designed to study combustion behavior in microgravity. Data from this experiment were to be downloaded via telemetry.
Low-temperature fires with no visible flames are known as cool flames. In previous combustion experiments aboard the space station, researchers observed cool flame burning behaviors not predicted by models or earlier investigations. The Cool Flames Investigation examines low-temperature combustion of droplets of a variety of fuels and additives in low gravity. Data from this investigation could help scientists develop more efficient advanced engines and new fuels for use in space and on Earth.
The Lighting Effects investigation tests a new lighting system aboard the station designed to enhance crew health and keep their body clocks in proper sync with a more regular working and resting schedule. The system uses adjustable light-emitting diodes, LEDs, and a dynamic lighting schedule that varies the intensity and spectrum of the LEDs in tune with sleep and wake schedules. Research has shown that enhancing certain types of light can improve alertness and performance while other types can promote better sleep.
A user-friendly tablet app provides astronauts with a new and faster way to collect a wide variety of personal data. The EveryWear investigation tests use of a French-designed technology to record and transmit data on nutrition, sleep, exercise and medications. EveryWear has potential for use in science experiments, biomedical support and technology demonstrations.
Astronauts aboard the space station are exposed to space radiation that can reduce immune response, increase cancer risk, and interfere with electronics. The Fast Neutron Spectrometer investigation will help scientists understand high-energy neutrons, part of the radiation exposure experienced by crews during space flight, by studying a new technique to measure electrically neutral neutron particles.
The Cygnus spacecraft was originally scheduled to remain docked at the space station until November 2016, before its destructive reentry into Earth's atmosphere, disposing more than 1.5 tons of trash.
In addition, a NanoRacks deployer on Cygnus was scheduled to release several CubeSats. These secondary experiments were scheduled to be conducted after Cygnus departs the ISS on Nov. 18, 2016.
Upon completion of secondary tasks, Cygnus was to perform a controlled safe destructive reentry.
The Cygnus OA-5 cargo spacecraft was detached from the robotic arm of the ISS at 8:22 a.m. EST on Nov. 21, 2016, around two minutes behind schedule.
Before its release, robotics controllers maneuvered Cygnus into a correct position below the station, and when the outpost was flying over the coast of Columbia, Expedition 50 robotic arm operators Shane Kimbrough of NASA (Soyuz MS-02 crew) and Thomas Pesquet of the European Space Agency, ESA, (Soyuz MS-03 crew) gave the command for its release. Three minutes later, the spacecraft initiated a three-minute burn to exit the station's 200-meter "keep-out zone."

Five hours after departing the station, around 12:30 p.m. Houston Time, ground controllers at Glenn Research Center in Cleveland, Ohio, and at Orbital ATK in Dulles, Virginia, were scheduled to activate the Saffire-II experiment, intentionally igniting a fire inside a module aboard the unmanned spacecraft.
The second in a series of three, the experiment allows researchers to study a realistic fire on an exploration spacecraft. Instruments on the Cygnus will measure flame growth, oxygen use and more. Results could determine microgravity flammability limits for several spacecraft materials, validate NASA's material selection criteria, and help scientists understand how microgravity and limited oxygen affect flame size. The investigation is important for the safety of current and future space missions.
On November 25, Cygnus is scheduled to enter an orbit around 100 kilometers above the ISS for the release of four LEMUR CubeSats. Cygnus will release satellites from an external deployer on Nov. 25, 2016, at 11:03 a.m. and 6:10 pm. Houston Time, sending them to join a remote sensing satellite constellation that provides global ship tracking and weather monitoring.
The spacecraft will remain in orbit until Nov. 27, 2016, when its engines will fire twice, beginning at 5:30 p.m. Houston Time, pushing it into Earth's atmosphere, where it will burn up over the Pacific Ocean.
Read much more about the history of the Russian space program in a richly illustrated, large-format glossy edition: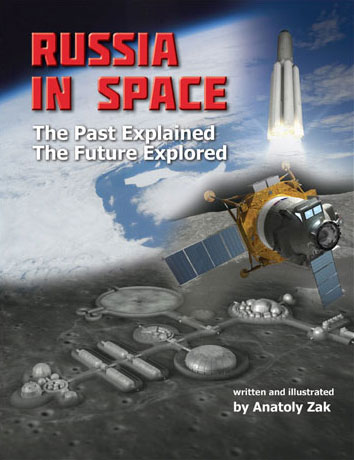 ---