Kondor to blast off from a Cold War missile silo
Russia's first radar satellite blasted off on a Strela rocket on June 27, 2013, from a very old but still operational underground launch pad. This hardened facility protected with a massive steel cover was originally built in the USSR along with numerous other fortified missile silos spread around Baikonur Cosmodrome. Although the main purpose of the site was testing Soviet UR-100-series ICBMs, the silo was also capable of launching an actual doomsday attack in the event of a nuclear war. Not coincidently, the facility is located just a short distance away from a site, where Soviet Proton rockets were launching into orbit Kondor's oversized predecessors equipped with large military radar antennas.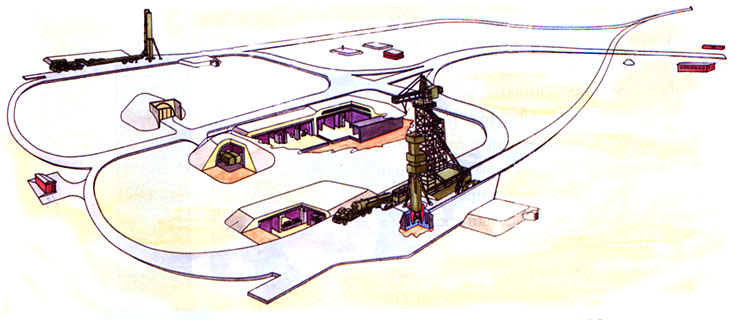 An artist rendering of the original launch facility for UR-100 missiles at Site 130 in Baikonur and its photo by a US reconnaissance satellite taken on April 23, 1966 (top right). A silo facility at Site 174 can be also be seen on the right side of the same photo. Credit: KBOM/USGS
---
Origin of launch facilities for UR-100
By 1965, a design bureau led by Vladimir Chelomei was ready to test the most compact Soviet ICBM developed to date -- the UR-100. It would become the most numerous intercontinental missile family of the Cold War and was dubbed in the West as Sego or Stiletto. A real dwarf comparing to the original R-7 ICBM, UR-100 promised to be easily deployed in heavily protected underground silos. Traditionally, for Soviet ICBMs, UR-100 had to "learn to fly" at the NIIP-5 test range near Tyuratam, known today as Baikonur Cosmodrome.
The 8th test directorate of the NIIP-5 test range, which previously fired Chelomei's UR-200 missiles would now be responsible for UR-100 missiles. At the same time, personnel from Military Unit No. 44108 (deployed in Tyuratam in 1962) was made responsible for operational deployment of all Chelomei's missiles at NIIP-5 range.
Like all other test infrastructure of Chelomei's bureau, launch facilities for UR-100 were built on the Western side of the test range. Although from the outset UR-100 was intended for underground deployment, early tests would be conducted from two surface pads located at Site 130. The facility was completed in January 1965 and went through integrated tests in February and March. Only during the next test phase, launches would move to a dual silo facility at Site 131 and to a single silo at Site 132.
The pre-launch processing of UR-100 missiles was conducted at an assembly building at Site 92, which also housed Chelomei's brand-new Proton space launcher.
First tests of UR-100

On April 19, 1965, the first UR-100 blasted off from the "right" surface pad at Site 130 in the presence of the commander of the Soviet Strategic Missile Forces N. I. Krylov. On July 17, the first rocket was launched from an underground silo and on October 19, the USSR (apparently for the first time) fired simultaneously two missiles from silos at Site 131 and 132. Test concluded for UR-100 in January 1975 with 170 missiles fired.
Sites 170-179
Highly successful UR-100 missiles were then rushed into service. On Dec. 31, 1965, first underground launch pad in a multi-silo underground launch complex was declared operational. The sprawling deployment area designated 386D was to include a total of 10 silos at Sites 170-179 and intended for both testing and semi-operational deployment of UR-100 missiles.
Each protected silo was designed to hold a fueled missile sealed inside a special launch capsule from 7 to 10 years -- a record duration for that period. At the same time, missiles could be reportedly launched within three minutes after a command to fire.
By June 1966, five silos with UR-100 missiles were brought online and, on the same month, one demo launch of the UR-100 missile was witnessed by French President Charles de Gaulle during his visit to Tyuratam.
UR-100K and UR-100UTTKh
In May 1969, Site 131 was refurbished for test flights of a new-generation UR-100K mission. Sites 132 and 174 were also modified for the same purpose. Actual test launches were conducted here from July 1969 until March 1971, followed by periodic launches of previously operationally deployed missiles from various manufacturing batches to ensure their flight readiness. A total of 53 test missiles were fired.
Hardened silos
On Aug 19, 1970, the Soviet government issued a decree ordering further hardening of launch silos and the deployment of the firing command bunker at a larger distance from the site. Launch hardware was also had to be modified. The silo would be now be protected with an even more massive cover.
Tests of these facilities started in June 1971, alongside with launches of a modified UR-100U missile and concluded in June 1972 with five launches. A total of 20 launches took place by Jan. 1, 1975.
The August 1970 decree also approved the introduction of a computerized launch control at silo facilities and onboard the missile. The new complex designated 17POZO was completed by 1972 at Site 132, 174 and 179. Its centralized command post was located at Site 182.
Testing started with so-called "throw" tests, when missile would be ejected from a silo with a use of a special pressure generator, but would not fire its own engines. The purpose of the tests was to prove the validity of the new launch system.
For this program, a two new experimental silos were under construction at Site 175 from 1975 to 1978.
UR-100NU
Yet another generation of UR-100 missiles was tested during 1977 and 1978 with a total of 19 launches until June 1979. 17 launches were classified as successful, with one partially successful and one -- a failure.
Anti-satellite role
Around mid-1980s, the USSR apparently initiated plans to give the well-proven UR-100NU missile a role of an anti-satellite weapon carrier. The rockets carrying maneuverable "killer" satellites instead of nuclear warheads would still be based in silos in Baikonur.
In 1985, the 326th test unit was assigned the new project, along with a special task force approved by the test range commander in October of the same year. The 326th unit was allocated a pair of silo facilities at Site 131 and Site 175, where preparations for launches started around 1987.
A total of three test launches took place between 1990 and 1994, however the disintegration of the USSR in 1991 largely stalled the entire project and, ultimately, killed its Baikonur-based component, as the launch center ended up in a newly independent republic of Kazakhstan.
At the same time, the manufacturer of UR-100 missile series -- Khrunichev enterprise -- started converting retired ICBMs into commercial space launchers under the Rockot program. (233)
After the Cold War
The Rockot project originally envisioned launches from both Plesetsk and from Baikonur. Russian Strategic Missile Forces planned to use at least two silos at Sites 131 and 175/1 in Baikonur for this purpose.
The Russian-European joint venture formed to market the converted ICBM to prospective customers called Eurockot booked launches of 56 communications satellites from Baikonur for Leo One, a Missouri-based telecommunications investment and management company beginning in 2002. Since Leo One constellation required a relatively low-inclination orbit, Baikonur turned out to be the only existing facility, from which Rockot would be able to deliver such a payload.

As of 1999, Eurockot planned to renovate silo No. 175/1 for upcoming commercial operations. The upgrades would allow the silo to meet acoustic requirements for potentially sensitive commercial payloads, which would replace nuclear warheads on the rocket.
Eurockot even planned to build a new railway that would link the silo launch pad with a giant processing building 92-A-50, where all commercial payloads would be prepared for launch. While the Rockot booster itself was designed to be delivered to the silo by huge road trailers, sensitive commercial payloads required a railway. Eurockot officials estimated it would take about 18-21 months to complete all the renovations.
Eurockot had previously spent about $40 million renovating the surface launch pad in Plesetsk previously used for the Kosmos-3M launcher, used by the Russian military.
Unfortunately for Eurockot, in July 1999, Kazakhstan imposed a ban on Russian launches from Baikonur after a Proton rocket crashed during its launch scattering debris over the populated areas of the republic. As it turned out, Rockot used the same toxic propellant as Proton, and Kazakh authorities demanded assurances from Russia in case of a similar failure with Rockot. Reportedly, the Kazakh government also pushed for a share of profits that Khrunichev and Eurockot would make launching Rockot from Baikonur.
Soon after the July 1999 Proton crash, the director of Khrunichev enterprise Anatoly Kiselev was to report on Rockot's safety during the meeting of the Russian-Kazakh inter-government commission. According to a source at Khrunichev, Kiselev stood up only to announce that the company was canceling its plans to launch Rockot from Kazakhstan.
Although commercial launches of Rockot boosters from Baikonur had never materialized, Russia still had to maintain few silos for UR-100NU operational in Baikonur, as long as such missiles remained in the armaments of the Strategic Missile Forces. According to existing practice, periodically, some operational missiles would be removed from their positions, brought to Baikonur and fired to ensure their reliability throughout their life span.
These tests became even more important as missiles aged. As a result, Russian Ministry of Defense kept the 8th Test Directorate operational in Baikonur, even as other military units were disbanded.
In 1994, when the 2nd Test Directorate (responsible for larger ICBMs) was disbanded, its duties were transferred to the 8th Directorate.
In 2003, NPO Mashinostroenia, which won a federal contract for the development of a radar-carrying Kondor satellite, relied on operational silos in Baikonur to test its Strela launcher.
It lifted off successfully on December 5, 2003, from a silo at Site 175/2. However, due to endless delays in the Kondor project, the historic silo in Baikonur had to wait for a decade before its next orbital mission.
Chronology of UR-100 facilities in Baikonur:
1965 January: The first surface-based test launch pad (Facility 386) for UR-100 missile is completed at Site 130.
1965 February-March: Integrated tests of a surface-based pad at Site 130
1965 April 19: The first launch of UR-100 missile from a "right" surface pad at Site 130.
1965 July 17: The first launch of UR-100 missile from an underground silo.
1965 Oct. 19: The first simultaneous launch of two UR-100 missiles from Site 131 and 132.
1966 June 16: Personnel of Military Unit No. 44108 enters operational readiness with five OS-84 silos No. 41, 42, 43, 46 and 49 and UR-100 missiles.
1967 May 26: Military Unit No. 44108 enters operational readiness with nine silos of Facility 386D.
1965 Dec. 31: Facility 386D with 10 silos of UR-100 missile is declared operational.
1974 December: The completion of tests of the 17POZO launch complex.
1978: Two new experimental silos are completed at Site 175.
1985 October: A special task force for the RSM50 (Rockot) project is formed in Baikonur.
1986: YePKB Yu-70 test launches.
1987 Sept. 23: The 326th test unit starts operations at Sites 131 and 175.
1990 Nov. 20: A Rockot booster lifts off for the first time from Silo No. 29 at Site 131.
1991 Dec. 20: The second Rockot launch.
1994 Dec. 26: The third Rockot launch.
2002 Dec. 10, 10:15 local time: A test launch of an UR-100NU (15A35) missile to certify the operational readiness of the 15P035 complex.
2003 Dec. 5: The first test launch of the Strela rocket from Site 175/2.
2004 Feb. 18: A ballistic missile launch from Baikonur within Yu-70 project during a strategic command exercise of the Russian Armed Forces.
Known launch facilities for the UR-100 family of missiles, Rockot and Strela launchers (168):
92

-

~1964

-

Processing and assembly building for UR-100 and Proton rockets

94

-

-

Active as of 2002 (?)

Processing area for UR-100 and the Rockot launch vehicle

130

386

Completed in January 1965

Blown up

A dual surface launch pads for early launches of the UR-100 (8K84) missile and a launch control bunker

131

386

~1965

Active as of 2002 (?)

A dual launch silo for UR-100 missile (, in 1969 rebuilt for UR-100K PU 15PO084. Converted for Rockot beginning in 1987. Launches in 1990.

131N

-

~1970-1971

Mothballed (?)

Launches of UR-100U missiles in 1971-1976; UR-100NU in 1978-1981

132

386

1964-1965

Mothballed (?)

A launch silo for UR-100 missile, a the firing room and radio control facility. Rebuilt for UR-100K PU 15PO084; around 1972 rebuilt for 17POZO complex; Launches until 1977.

170

386D

~1966

Blown up on Nov. 15, 1990

Silo for UR-100, MR-UR-100, MR-UR-100UTTKh

171

386D

~1966

Blown up on June 26, 1992

Silo for UR-100 and UR-100N

172

386D

~1966

Blown up on Sept. 8, 1995

Silo

173

386D

~1966

Blown up on Sept. 8, 1995

Silo

174

386D

~1966

Blown up (?)

Silo for UR-100, rebuilt for UR-100K PU 15PO084; around 1972 rebuilt for 17POZO complex;

175

386D

~1966

Blown up on June 26, 1992

Silo and a command post, KP, for UR-100

175/1

386/116

~1975-1978

Active

Silo for UR-100NU; Converted for Rockot beginning in 1987.

175/2

386/116

~1975-1978

Active

Silo for UR-100NU;

176

386D

1965-1966

Blown up on June 30, 1992

Silo for UR-100 and follow-on missiles

177

386D

1965-1966

Blown up in April 1991

Silo for UR-100 and follow-on missiles

178

386D

1966

Blown up (?)

Silo for UR-100

179

386D

1965-1966

Blown up (?)

Silo for UR-100; around 1972 rebuilt for 17POZO complex

180

386/118

1976

Blown up on Aug. 24, 1995

Silo for UR-100 and follow-on missiles

182

-

1972-1973

Active (?)

Command post for UR-100U, UR-100N and UR-100NU missiles