The construction of the Buran's landing facility started at Site 251, north of the Energia-Buran launch complex in 1982. The airport featured concrete-paved landing strip 4,500 meters long and 84 meters wide.

The new process was developed to lay out concrete of the landing strip. Only highest quality reinforced concrete, known as "Grade 600" was used in the project. The thickness of the runway pavement varies from 26 to 31 centimeters depending on the loads projected for the particular area of the runway. According to pre-construction standards, the surface of the runway could fluctuate no more than 3 millimeters per every 3 meter of the surface length. The requirement for the regular airport would be 10 millimeters per 3 meters. No technology available at the time could meet such requirement. The unique polishing machines were developed for the project. They were equipped with 130 diamond polishing disks, each 50 centimeters in diameter. Entire surface of the landing strip was polished this way.

At the edge of the runway a special mating-demating complex was built. It was used to lift the orbiter off its carrier aircraft and load it on a transporter, which would carry the vehicle to the processing building at Site 254.

Long before the Buran orbiter was ready to blast off, the airport known as Yubeleiniy entered service. It received heavy transport planes carrying elements of the Energia-Buran system. Partially assembled Buran was also delivered here on top of a converted bomber.

The runway was used for its main purpose only once, on November 15, 1988, when unmanned Buran orbiter safely landed here. The facility had remained abandoned in the first half of the 1990s, until Khrunichev enterprise did not start commercial launches of the Proton rockets from near by launch pads on the left flank of the Baikonur Cosmodrome.

The runway was then repaired and the airport reopened as cargo and support facility for Baikonur's commercial operations. The most commercial payloads would be transported here onboard Antonov-124 cargo plane.

Kazakh authorities also opened a custom service at the airport, processing passenger and charter flights from Russia.
PICTURE GALLERY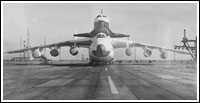 Mriya transport plane with Buran orbiter sitting on the runway in Baikonur. Credit: Baikonur Museum
---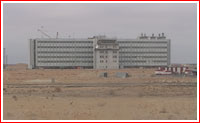 Buran landing control facility at Site 251. Copyright © 2001 by Anatoly Zak
---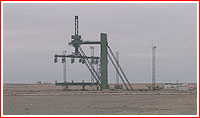 A device apparently designed to remove payloads from the cargo bay of the Buran orbiter. Copyright © 2001 by Anatoly Zak