---
---
---
Acknowledgments:
Author thanks Igor Puchkov and Igor Postnikov at NPO Mashinostroenia, in Reutov, Russia, and Alain Chabot from Université Sainte-Anne in Church Point, Nova Scotia, Canada, for their help in preparing this section.
The tail section of the Almaz station, known as the transfer compartment or PO, was crowded with an EVA hatch, a docking port, a propulsion system and a deployment mechanism for small retrievable KSI capsules.
Two unfolding solar panels with an effective area of 52 square meters were attached to the sides of the PO section. The panels were capable of producing 3,120 Watts of electrical power, and unlike those on the first Salyut space station, were capable of rotating thus allowing the best exposure to the sun, while the station maintained its attitude toward the Earth surface.
PICTURE GALLERY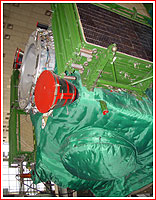 The tail section of the Almaz station was crowded with an EVA hatch (not visisble), a docking port, a propulsion system, a release mechanism for small capsules (bottom) and last but not least, two unfolding solar panels. Copyright © 2002 by Anatoly Zak
---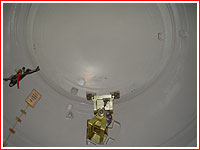 An interior view of the EVA hatch of the Almaz station. Copyright © 2002 by Anatoly Zak
---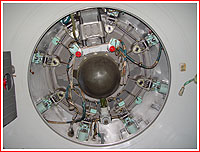 An interior view of the rear docking port of the Almaz station. Copyright © 2002 by Anatoly Zak
---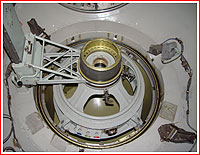 An airlock and a loading mechanism for jettisoning small capsules with film from Almaz. Copyright © 2002 by Anatoly Zak
---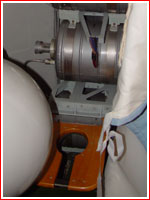 The toilet onboard Almaz. Copyright © 2002 by Anatoly Zak
---