The large diameter section of the Almaz space station contained its main payloads, including its primary surveillance instrument -- the Agat-1 photographic camera. From this section, the Almaz crews controlled the payloads, as well as the spacecraft itself during the flight.
Soviet authorities have never released a single clear image, showing the interior of the station's working compartment, in flight or on the ground. Official descriptions of the "working compartment" of the Salyut-3 and Salyut-5 stations were limited to generalizations about flight control systems with "pilot work station, featuring display of the station's position, an attitude indicator with the orientation control handle." Power supply, telemetry, life-support and radio-systems, as well as "experimental" and "scientific" equipment was also mentioned among the hardware housed in the "instrumentation zone." (152)
According to Soviet sources, the equipment onboard the Salyut-3 was mounted on special racks covered with removable panels, which provided access to the hardware and allowed repair in flight.
The large-diameter section also housed a treadmill; a toilet, behind special panels; water containers, packs of napkins, towels and other hygiene items.
PICTURE GALLERY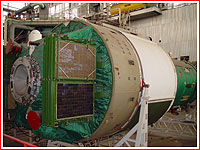 The Almaz station consisted of three main sections: tail section (left), a "main diameter" section housing telescopes, and "small" diameter section (far right), containing living quarters. Copyright © 2002 by Anatoly Zak
---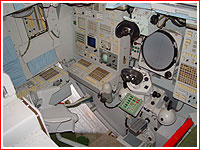 The main control post inside the Almaz. Copyright © 2002 by Anatoly Zak
---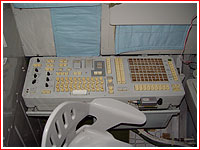 The main control post inside the Almaz. Copyright © 2002 by Anatoly Zak