---
---
---
Acknowledgments:
Author thanks Igor Puchkov and Igor Postnikov at NPO Mashinostroenia, in Reutov, Russia, and Alain Chabot from Université Sainte-Anne in Church Point, Nova Scotia, Canada, for their help in preparing this section.
The front section of the Almaz space station, with the diameter of 2.9 meters, contained habitation facilities for the crew.
A rest area, resembling a sleeping car compartment was located on the port side of the station. It featured bunkbeds, one stationary and one folding, a kitchen table and a window. A heater to prepare food was built into the table.
A small panel, located right behind the table, contained the controls for the life-support system, communications gear and light switches. Hot and cold tap water was supplied from a tank near the table.
A special box, also located in the habiation section, contained medical equipment, some of the science instruments, a tape recorder, a radio, books, stationary and a miniature chess set.
Food supplies were located in special containers within the habitation area. Thermal-control hardware and water containers for the life-support system were located under the floor.
The Almaz stations also had a Raketa ("Rocket") vaccum cleaner onboard.
Specifically for the Almaz program, NIIKhIMMash research institute of the Ministry Chemical Machine-building was developing a shower unit. (200)
PICTURE GALLERY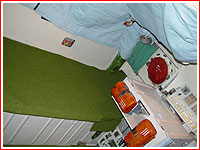 Layout of the Almaz leaving quarters. Copyright © 2002 by Anatoly Zak
---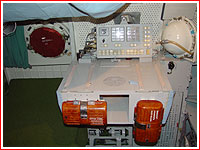 A kitchen table inside of the habitation section of the Almaz station. Copyright © 2002 by Anatoly Zak
---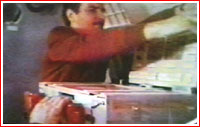 Cosmonaut Vitali Zholobov shown inside the habitation section of the OPS-3 (Salyut-5) space station during a 1976 mission. The station's kitchen table can be seen at the bottom of the photo. Credit: NPO Mash
---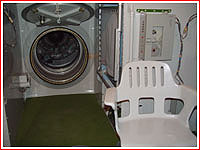 An interior view of the front docking port of the OPS-4 station, which would be used by the Soyuz spacecraft. Copyright © 2002 by Anatoly Zak